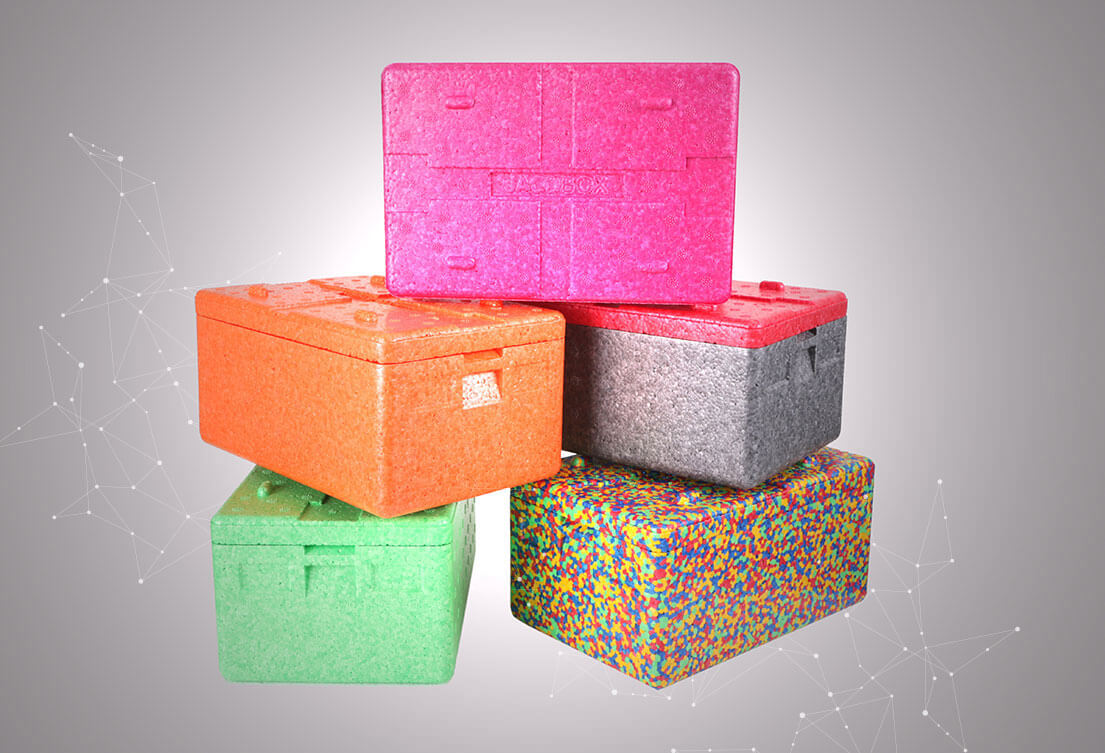 Using EPP in the areas of logistics and packaging
Whether conveyor belt or bicycle, automobile or delivery vehicle – wherever goods are transported, the packaging material must meet high requirements.
The properties of an ideal packaging material include:
light unladen weight,
robust, shock-resistant material,
reliable protection of the transported goods,
best environmental compatibility and recyclability,
noiseless material that is easy to clean,
excellent insulating properties.
EPP – stable, safe and sustainable
Expanded polypropylene covers all of these specific requirements without exception. Despite its impressive specific strength, which protects the transported goods all round, the pollutant-free EPP plastic does not weigh very much. The feather-weight moulded parts made of particle foam therefore help to conserve fossil fuels – an innovative role model for environmental protection in the plastics sector!
Due to the high temperature resistance of EPP, packaging made of this particle foam can be cleaned well and even sterilized – an important requirement for packaging material used in the food or medical industry. EPP is therefore an optimum choice for reusable packaging. Is it any wonder that expanded polypropylene began its triumphant advance in the field of packaging in the area of thermal boxes?
Transport boxes – embedded on (EPP) foam
Have you ever been annoyed with your conventional folding box? Because it has no lid, because food is not cooled or kept warm in it, or because the box cannot withstand heavy loads?
With an EPP thermal box, the problems are a thing of the past. Transport boxes made of EPP are environmentally friendly, lightweight and offer a high level of protection.
The advantages of transport boxes made of EPP
Transport boxes made of expanded polypropylene offer you many advantages:
The light unladen weight reduces the overall load and makes loading and unloading really simple.
Stackable boxes create storage space.
Custom-fit models are suitable for individual application purposes.
Soft foam and high insulating capacity protect even delicate goods and ensure a constant temperature over a long period of time.
Since moulded parts made of elastic EPP do not require the utilisation of flexible foam, production is cost-effective and environmentally friendly.
Transport boxes made of EPP are incredibly durable and can be used over and over again for years. The robustness of EPP prevents the formation of cracks in the material. At the same time, EPP has excellent resilience: When falling, the beads return to their initial position – and the transport box remains undamaged.
Fields of application for transport boxes made of EPP
Thanks to the innumerable advantages, durable transport boxes made of EPP are suitable for many areas:
for private shopping
for cargo bikes
for storing products
for transporting food and meals
for transporting sensitive goods in the pharmaceutical industry, such as drugs, vaccines or medical samples
Transport boxes made of EPP – versatile and extremely robust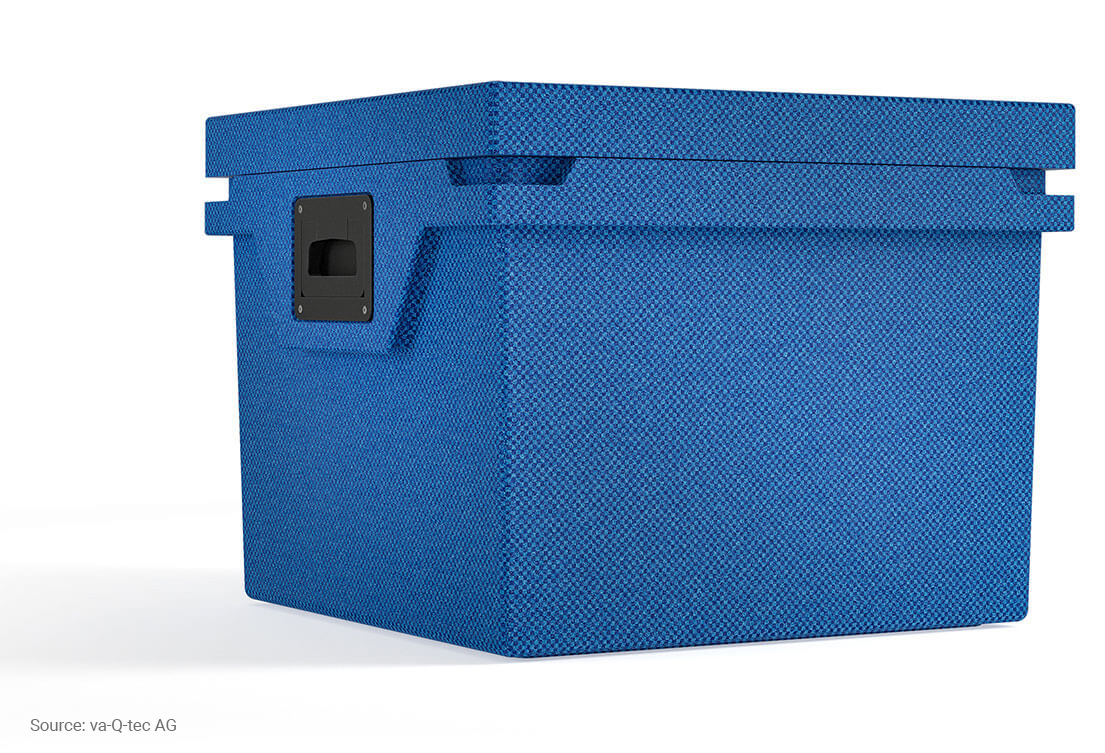 A particularly good example of sustainable cooling with EPP is the va-Q-box made of a PP monomer material with excellent insulating properties, removable vacuum insulation panels and low weight for the protection of pharmaceutical products. The box can maintain a temperature of between 2 and 8°C for three days at an outside temperature of up to 30°C and without any additional energy supply.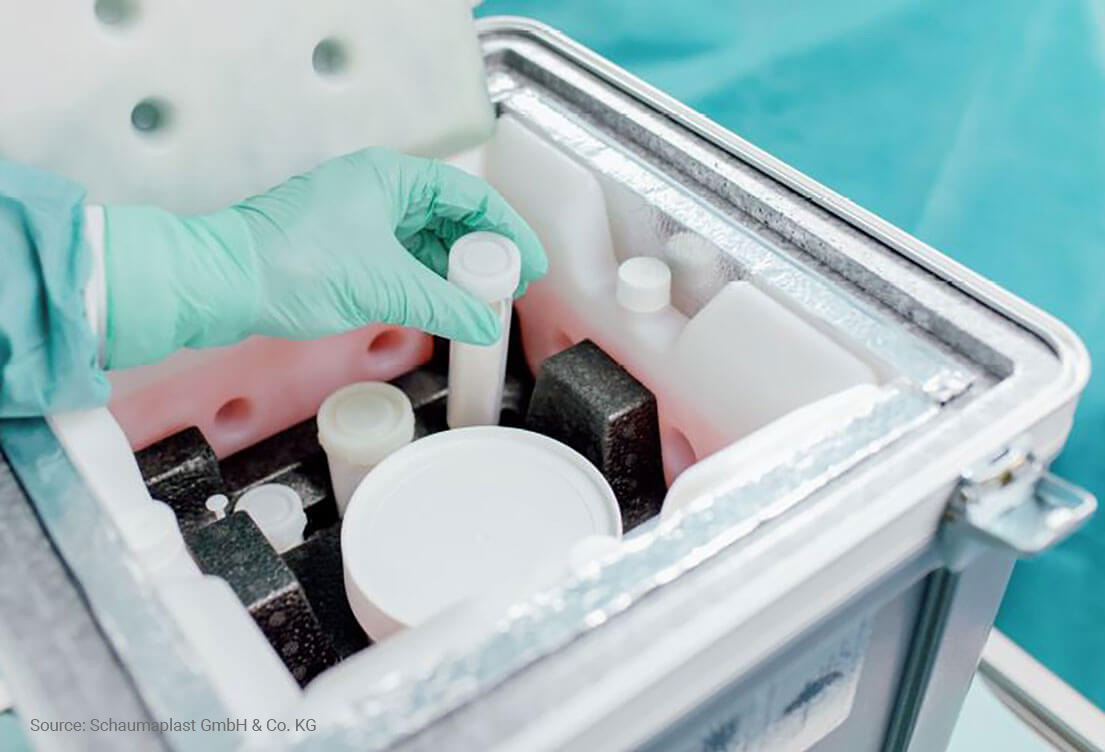 In addition to vacuum insulation panels, the Thermocon box also uses phase-change materials (PCM materials) in combination with EPP to guarantee a long cooling time.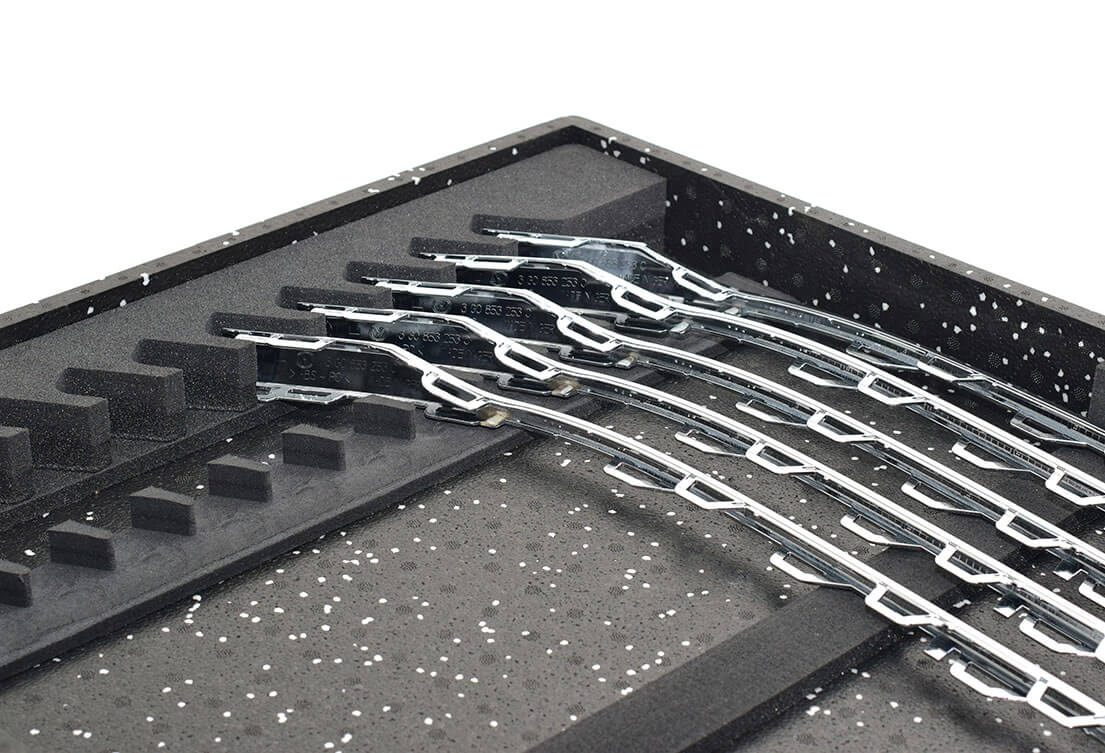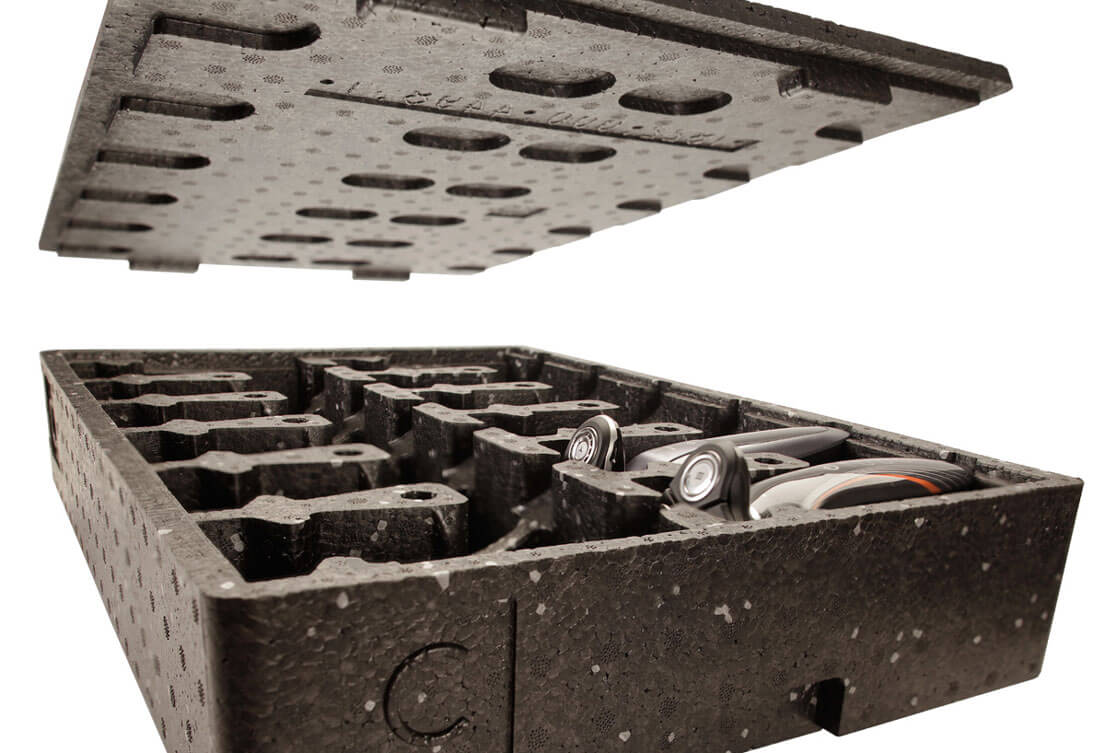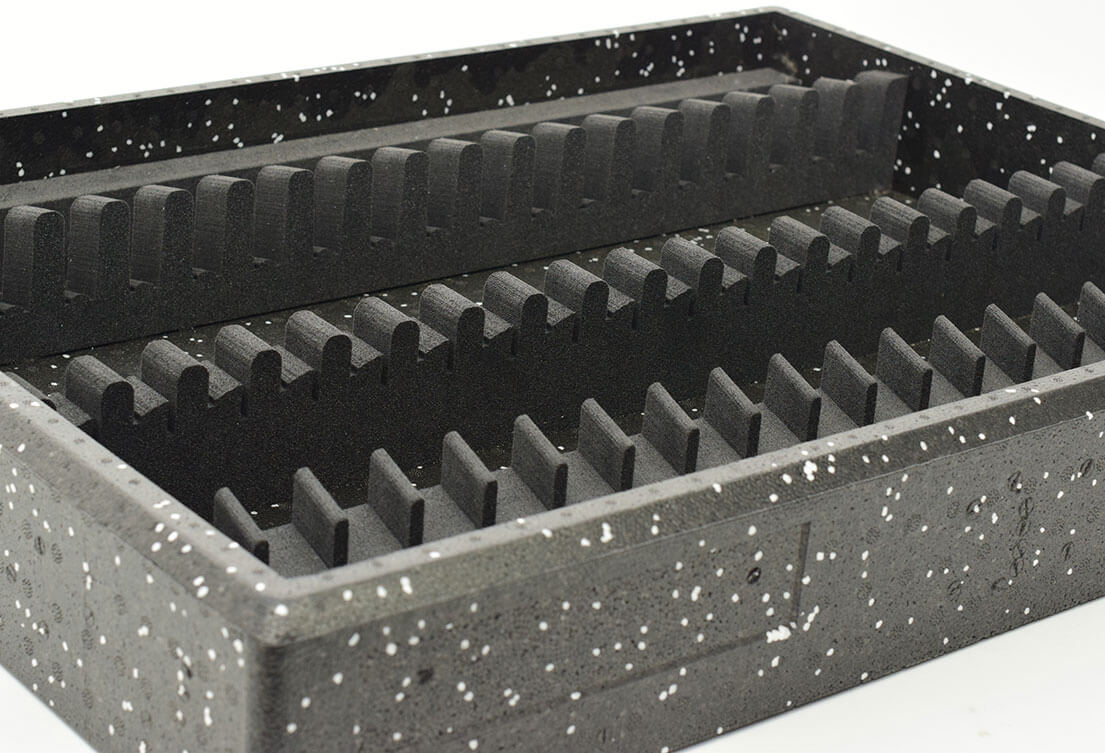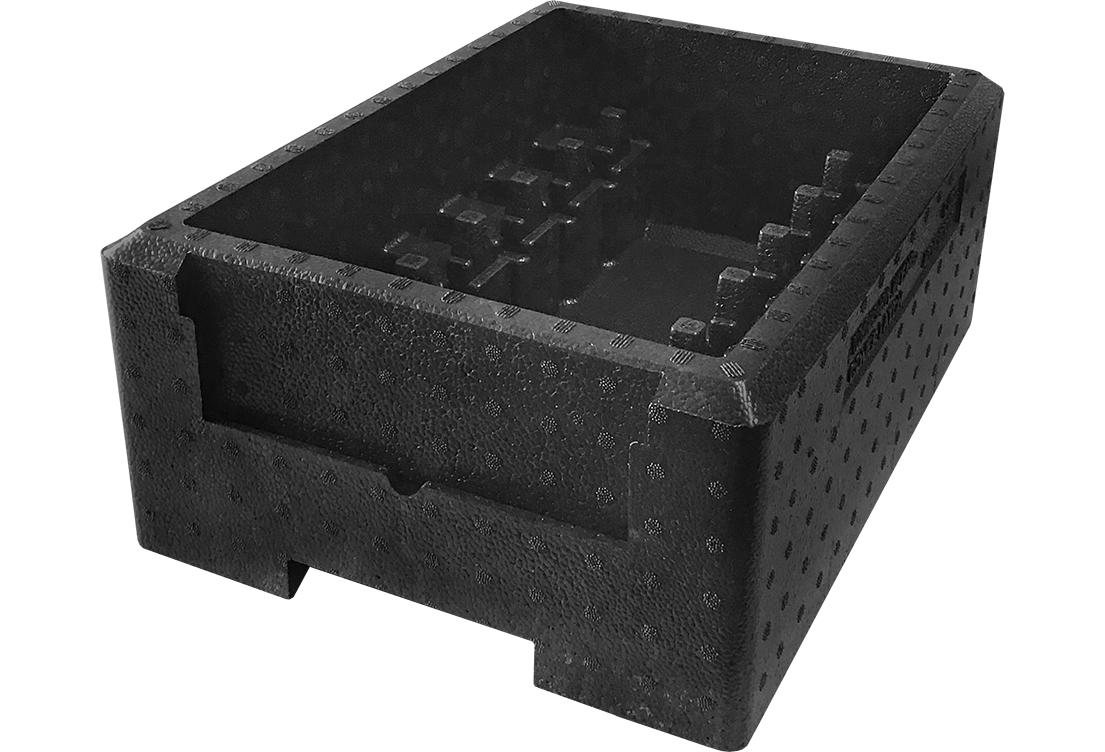 Transport trays – Soft storage for workpieces
In modern production processes, the automatic mass production of goods is of great importance. Time is money: As many units as possible need to be produced in as short a time as possible, transported as safely as possible and without any rejects on their way through the various stations of the production chain.
This is where EPP plastic comes into play: On precisely sized foam trays, the individual workpieces are stored softly on their journey to their next processing step, and are continuously protected both on the conveyor belts and later in the warehouse. Especially in the production chains of the automotive industry, the robust workpiece carriers made of expanded polypropylene have asserted themselves with virtually no competition.
The advantages of transport trays made of EPP
Foam trays made of EPP are particularly popular due to their:
Resilience
With EPP, robust packaging systems can be produced that are individually adapted to the serial part to be transported. The parts are therefore protected against mechanical and natural atmospheric influences throughout the entire serial production cycle and can be stored outdoors in all weather.
Space-saving features
Even in the warehouse, the advantageous properties of the particle foam are not lost, as the packaging units can be arranged in an extremely space-saving manner: Stacking is expressly permitted here!
Reusability
The project-specific moulded EPP trays are extremely durable and can be used for several production runs and then returned to the recyclable material cycle. In the automotive industry, this reusable transport packaging is sometimes circulated between the supplier and the assembly line for a period of up to 7 years and can then be recycled. This reduces costs and protects the environment.
Fields of application for transport trays made of EPP
Transport trays made of expanded polypropylene are used in all industries where components are pre-assembled in another location and then delivered to a final assembly line. Among others
Automobile industry
Mechanical and plant engineering
Further fields of application for EPP